PB&F vision and imperatives to drive funding
BY SHARON SHERIDAN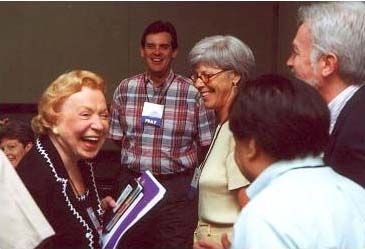 Pamela Chinnis (pictured left) chats with members of Program, Budget, and Finance Committee following her presentation to them on Wednesday. Photo by Dick Snyder
The Program, Budget and Finance Committee on Wednesday adopted a guiding vision and new mission imperatives to direct funding decisions for the proposed budget over the next triennium.The guidelines are part of a revised budgeting process that seeks to reflect the church's mission priorities and improve response to changing conditions between conventions.
The committee envisions the Episcopal Church living as ``people of Jubilee with a transformed consciousness of liberation . . . and as the community of the new covenant.'' According to the vision, the national church's mission --- in partnership with provinces, dioceses and congregations --- is to live out the baptismal covenant.
In forming the program budget for new mission initiatives and reorganized mission programs, the committee will be guided by the ``imperatives'' to promote diversity, make disciples and apostles, and enhance communications for the 21st century. The committee also affirmed continued efforts to strengthen the Episcopal Church's partnership within the Anglican Communion and to encourage relationships with other Christian and interfaith groups.
Adopting the vision and imperatives allows the committee's subcommittees, to begin developing the proposed budget, said Bonnie Anderson, committee chair from the Diocese of Michigan. ``We want it broadly publicized so that, as resolutions are presented, the rest of the conventionknowswhatguiding principles Program, Budget and Finance is going to use to consider budgeting requests,'' said Bishop Russell Jacobus of the Diocese of FondDu Lac, vice chair of the committee. A similar vision statement was published in Executive Council's budget report. The committee previously asked council ``to be explicit in the priorities used in putting the [council's proposed] budget together,'' explained Byron Rushing, chair of the committee's program (mission) section and deputy from the Diocese of Massachusetts.
In developing the committee's statement, he explained, ``We used, as much as possible, the language from Executive Council, but we also introduced the concept of Jubilee.'' The three imperatives are interconnected, Rushing said. While making disciples and apostles is central, he explained, wemustpromote diversity while speaking the language of everyone. This means enhancing communications is more than using new technologies, he stated. It also addresses questions like whether or not the church can afford to have monolingual clergy.
Establishing the vision and imperatives is part of changing the budget process, Rushing stated. In the future, it is hoped General Convention will articulate priorities for the next triennium ``and directly inform committees to produce details to reach that strategy,'' he concluded. In other business this week, the committee: #Resolved to allow diocesan assessments to be paid monthly; #Resolved to amend Canon 1.4.6 to clarify that the ``corporate'' part of the budget is for ``administrative support'' and that ``program'' means mission; and #Voted to ask Executive Council to establish guidelines for meeting expenditures of interim bodies.