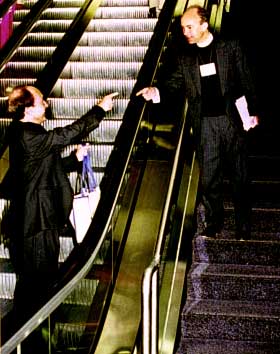 Two Lords serving in one house
BY BOB WILLIAMS
Identical twins, both Episcopal priests, are active deputies at this meeting of General Convention. Kansas deputy Rob Lord is rector of St. Michael and All Angels Church in Mission, a suburb of Kansas City. Virginia deputy Rick Lord is rector of Church of the Holy Comforter, Vienna. The brothers' father, the Rev. David Lord, is retired in the Diocese of Central Florida.
"When we've celebrated with our father," says Rick, "we tell people, `This is the House of Lords!' or `Come see three Lords a-leaping!"'
The brothers, 47, grew up in the Diocese of Washington, where their father served a church in Potomac, Md. Rick credits that diocese's strong youth program with the brothers' decision to follow in their father's priestly footsteps. Rob, the elder "by about 3 minutes," was the first to follow the process to ordination, followed a year later by Rick.
A social psychology major at Florida Atlantic University, Rob attended seminary at Nashotah House. Rick, meanwhile, attended Virginia Theological Seminary and the Berkeley Divinity School at Yale after he completed a music degree, specializing in classical guitar, at Catholic University. It's Rick's first General Convention as a deputy, while Rob is returning for the second time. "We're both absolutely dedicated to the Episcopal Church and to serving it and its people," says Rick. "And we're grateful to be here as delegates together."
Have they swapped seats on the convention floor? Not yet, but they do occasionally exchange pulpits, providing their congregations with a bit of the same "double take" with which they are turning heads here in Denver.
—Bob Williams is communications director in the Diocese of Los Angeles.
photo/DICK SNYDER