Holy Hammers builds homes and relationships
BY REBECCA JONES
A family of six, living in a two-room basement apartment, took possession on Sunday of their newfour-bedroomhome, built by Episcopal and Lutheran volunteers through Habitat for Humanity, and blessed by Presiding Bishop Frank T. Griswold.
``The Lord will keep your going out and your coming in from this time on and forevermore,'' Griswold said, as hedipped anevergreenbranch in waterand sprinkled it around the living room of the newly-completed-home at 171 West Pacific Place in west Denver.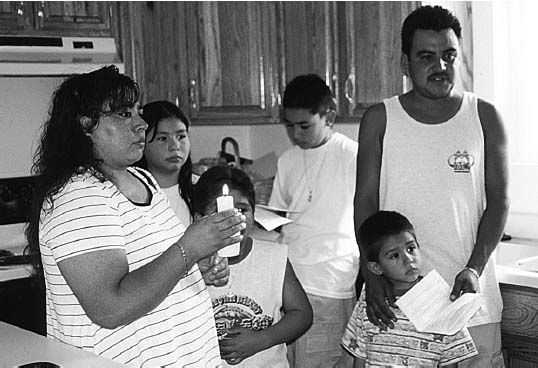 The Pizarro family gathers in their kitchen during the blessing of their new habitat home Sunday. Photo by DOUG HUNER
Enrique and Martina Pizarro and their children, 13-year-old Omar, 9-year-old Angelica, 6-year-old Enrique Jr. and 5year-old Luis, followed Griswold as he went from room to room, blessing each space and inviting God's presence throughout the house. Paying particular attention to the kitchen, he assured the Pizarros, ``This will make everything you cook here taste better. We'll put a little on the refrigerator, too,'' he said, sprinkling water on the glistening new appliance.
Griswold's visit capped a four-month effort by Habitat volunteers to complete the house, the third such house in three years to be built locally by the ecumenical group, called Holy Hammers. The coalition seeks not only to help provide affordable housing for the poor but also to help unite the two denominations, said the Rev. CanonStephen Wilson,canon evangelist at St. John's Cathedral in Denver and the project coordinator. Habitat for Humanity is an international, non-profit organization that uses volunteers and mostly donated materials to build new homes for families who otherwise might never be able to afford their own homes. Each family donates 500 hours of ``sweat equity'' to the building of their ownand future Habitathomes.
In exchange, they are able to buy their homes at cost with a no-interest mortgage loan. Payments are used for the construction of more homes. Since its founding in 1976, Habitat for Humanity International has built nearly 100,000 homes in 60 countries.
``Habitat for Humanity would be unthinkable without the church,'' said the Rev. John Petty, Habitat's area director for church relations and pastor of All Saints Lutheran Church in Aurora. ``But Habitat is also good for the church. Churches grow where they get a reputation for reaching out into the community. People want to be a part of a church like that.''
On Sunday, a host of dignitaries from both denominations turned out to help celebrate the home's completion. Among them: Jerry Winterrowd, bishop of the Diocese of Colorado; Wayne Weissenbuhler,formerbishop of theEvangelical LutheranChurch of AmericaRocky Mountain Synod, now pastor at Bethany LutheranChurch in Denver;David Perry, Ecumenical Officer of the Episcopal Church; and Griswold and his wife, Phoebe.
The Pizzaros, who have been waiting for about a year and a half for their home to be completed, still have to do some finishing touches on the house but expect to move in by mid-July. Martina Pizzaro, 33, has worked for the past year in the shipping department of G&V Services; Enrique Pizarro, 27, is a handyman who works on odd jobs around the community.
``I'd like to give thanks to all of you and God bless all of you,'' Enrique Pizarro told onlookers just before Griswold handed him a Bible and the keys to his new home. ``And God bless Habitat, so they can construct more houses like this.'' ``The theme of our convention is Jubilee,'' Griswold told the Pizarros, ``which has to do with going home. It's wonderful to give you a key to your home so you, too, can celebrate going home.''
A second ``Holy Hammers'' Habitat home will be built during convention. Deputies wanting to volunteer may do so Wednesday through Saturday, July 5-8. Sign up at the Habitat for Humanity volunteer desk in the Volunteer Center in Lobby B of the Colorado Convention Center. For more information, call Canon Steve Wilson, 303.831.7115.