(This article also released as ENS item GC2000-017)
Celebrating Jubilee with morning of reflection
BY SUSAN ERDEY AND ED STANNARD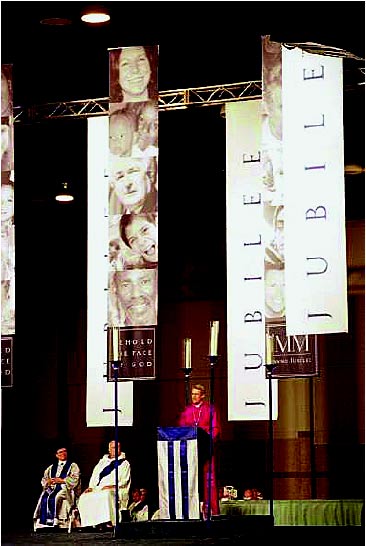 Presiding Bishop Frank T. Griswold leads the meditation at Thursday's Jubilee morning. photo/DICK SNYDER
General Convention's business as usual came to a stop on Thursday morning with the "Jubilee morning,'' a time without legislative sessions, exhibits, press briefings or meetings. In his welcome to worshippers, Presiding Bishop Frank Griswold noted that by "hallowing this as a time to cease our normal round of productivity, we are giving witness to our fundamental dependence on the Spirit in all that we do.''
The Eucharist began at 9 a.m. with choral preludes sung by the Schola Cantorum of the Diocese of East Carolina, and the soft strains of Taizé chants.
In his meditation, Griswold invited worshippers to "enter personally into the deeper meaning of Jubilee.'' Citing Thomas Merton, who said we must "learn to waste time conscientiously,'' Griswold said that the morning is a "time to discover ... the mystery of our life in Christ. Give yourself freedom, give yourself space ... relax, and trust the Spirit to speak deep within you.''
Encouraging the congregation to release themselves from "useful productivity and purposeful accomplishment,'' Griswold reminded them that at "the shattering moment'' of Jesus' baptism, "no task is assigned, no agenda given, no test is proscribed.... Nothing is asked for or required of Jesus other than to accept God's delight and pleasure in his very being.''
After Griswold's meditation, worshippers spent 90 minutes sitting and looking at the nearbymountains, praying together or alone or walking a labyrinth set up behind the altar. Two bishops knelt side by side on the labryrinth, one weeping. Members of the congregation returned to the worship space at 11:30 for the Great Thanksgiving,where the Rt. Rev. Chilton Knudsen, Bishop of Maine, was celebrant.
Deputies and bishops were mixed in their reactions to the unusual order of the day. "[Griswold] really has taken us on retreat here today,'' observed the Rev. Robert Eaton, deputy from San Joaquin. "If nothing else Bishop Griswold's time as Presiding Bishop will quiet the church.'' Others were not as pleased. "I'm a little disgusted by the process. I think this is a waste of time,'' said R.P.M. Bowden, an alternate and Executive Council member from the Diocese of Atlanta. "I think we need some time for contemplation, but there's too much business of the church for us to take a full half-day for contemplative thought. I do that all the time.'' But the Rt. Rev. Ken Price Jr. (Bishop Suffragan, Southern Ohio), was open to the new schedule saying that one of the most basic things about God is "the presence'' being revealed in new and different ways. The Jubilee morning is one of those ways, though he admitted "I had some resistance in the beginning to the idea.''