Three nominated to lead deputies
Three priests were nominated for president of the House of Deputies on July 6 to succeed Pamela Chinnis. The election will be held July 8.
The nominees are the Rev. Reynolds S. Cheney II of the Diocese of West Tennessee, the Rev. Randolph K. Dales of the Diocese of New Hampshire and recently retired Dean George L.W. Werner of the Diocese of Pittsburgh.
Reynolds Cheney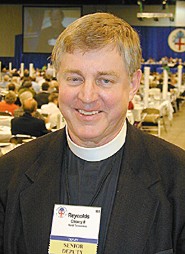 Cheney, rector of the Church of the Holy Communion in Memphis since 1981, has served in a number of parishes in Mississippi and West Tennessee and on the standing committees in both dioceses. He was chair of the Standing Commission on Human Affairs from 1992-98 and on Executive Council since 1994. Cheney has served as a deputy to General Convention since 1985 and was an alternate for three conventions before that.
Cheney graduated from Millsaps College and Episcopal Theological School and was ordained priest in 1961. He and his wife, Allan Glover Walker, have three children. He will turn 64 on July 19.
``He listens. He prays. He puts his money where his mouth is. He has a big heart,'' said the Rev. Howard R. Anderson of the Diocese of Minnesota in his nomination speech, who noted Cheney's service with both black and white congregations.
``His career-long service to this church has shown beyond a shadow of a doubt that he could lead this house. He has the stamina to do that and the experience. Except for his football knees he is up to this task.''
Randolph Dales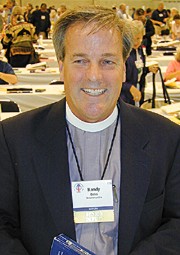 Rector of All Saints Episcopal Church, Wolfeboro, N.H., since 1978, Dales previously served in North Hollywood, Calif., and in other New Hampshire parishes. He has also served as standing committee president in New Hampshire; the Council for the Development of Ministry since 1986, on Executive Council from 1989-94 and with United Thank Offering.
Dales graduated from Stanford University and Virginia Theological Seminary and was ordained priest in 1967. He is 58 and married to Lynn Tyler. He has four children.
Dales nominated himself, ``not out of an excess of ego ... or lack of anyone else to do so in my place.'' Dales said he wanted to make a statement that ``our current process gives us little opportunity to know the peoplefromwhomwe are choosing leadership of this house.'' He called the House of Deputies a ``servant body ... elected not for 13 days but for three years.''
George Werner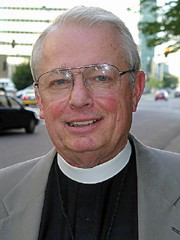 Vice president of the House of Deputies since 1994, Werner, 62, is recently retired as dean of Trinity Cathedral, Pittsburgh. He previously served in Connecticut and Manchester, N.H., before becoming dean in 1979.
Ordained a priest in 1963, Werner has been a deputy to General Convention since 1970, serving as chair of eight deputations. He has served on the Councils of Advice to Dean David Collins and Pamela Chinnis. Werner has also been a trustee of the Church Pension Fundand a member of the StandingCommission on Health and the Committeeon the State of the Church.
Werner graduated from Lafayette College and Berkeley Divinity School. He and his wife, Audrey Volker, have four children.
Werner ``brings with him the strong, wise and serene leadership that this august house needs,'' said deputy Diana Frade fromHonduras in nominatinghim.``Dean Werner is able to connect easily with people from all places and walks of life . His advocacy on behalf of women and minorities is a matter of record. He is a deeply spiritual person.''