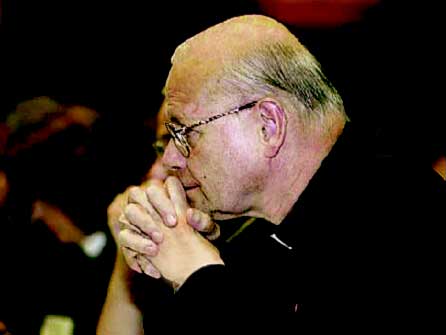 The Rev. Bob Wright, one of the drafters of the Called to Common Mission and a professor at General Theological Seminary, waits the final vote on CCM in the House of Bishops on Friday.
Bishops approve Lutheran agreement
By a commanding margin, the House of Bishops passed resolution A040 on July 7, calling for adoption of Called to Common Mission, the proposal for full communion with the Evangelical Lutheran Church of America (ELCA).
Resolutions A041 and A042, two constitutional amendments, were also approved for a second time, as required, with no debate. They were voted on first in 1997.
The three resolutions will likely be taken up by the House of Deputies as a special order today, probably after noon, according to John McCann, chair of the Dispatch of Business Committee. He said the messages from the bishops concerning the latter two resolutions passed were received too late for the deputies to act on all three together.
Called to Common Mission commits the Episcopal Church and the ELCA to a full sharing of ministries and mission. The Lutheran Churchwide Assembly approved it earlier this year.
If approved by the deputies, the agreement becomes effective Jan. 1, 2001.