Bishop of Cuba seeks fellowship, not dollars
BY DALE GRUNER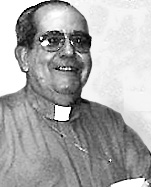 For Bishop Jorge Perera Hurtado of Cuba,one of a number from other churches in the Anglican Communion, visiting General Convention is a way to meet other bishops, re-establish fellowship with the U.S. church and remind people that the Cuban church is alive and well. "Faith can break the barriers," he said. "I came here not to ask for dollars but for friendship and solidarity." Perera's wife, Teresa, and three others from the diocese are accompanying him on this visit. The diocese has 62 organized missions and preaching stations, serving about 10,000 communicants. Parishes as understood in the US don't exist; the model is more like the British system, where larger churches have smaller nearby preaching stations, Perera explained.
"Since the American church severed relations with the Cuban church in the '60s, we have been isolated and alone," he said. But, increasingly, visitors from all parts of the US are traveling to Cuba, including a delegation from Denver that plans to visit in October.
"Most Episcopalians in the US are surprised there is an Episcopal Church in Cuba, despite our vitality and growth." Perera is especially proud of the growing number of youngsters who are in church and Sunday school. This year the diocese is sponsoring two summer camps with about 80 children in each.
People left the church years ago, Perera explained, because they were afraid of diminishing their status in the country if they were openly Christian. Some government jobs were closed to Christians, as were some courses of study. That is no longer true, and people are returning to church. "God works in mysterious ways," he said, citing the words of the prophet Habakkuk, "How long, O Lord, have I cried to thee, unanswered?" Now, Perera says, it seems that God is answering. Resolution C045 (substitute) calls for the restoration of diplomatic relations between the US and Cuba. It was approved by the House of Deputies Friday and now goes to the House of Bishops. Perera believes the estrangement between the two countries, including the embargo, makes no sense to anyone other than Cuban-Americans.
Clergy pensions an issue
Clergy benefits are unequal. Those ordained before the split from the American church are in the Church Pension Fund; those ordained later are not. That's one of the reasons Perera is excited about the possibility of becoming part of a new Anglican province by 2003, which would include Haiti, the Dominican Republic and Puerto Rico. In addition to developing their own liturgies and music, the new province would allow establishing a pension fund. "We have nothing to lose and plenty to gain," if this dream is realized, he said.