Concert to benefit Jubilee ministries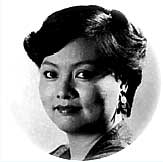 Internationally acclaimed opera singer Yun Deng will headline a benefit concert for the Jubilee Ministry Grants Fund on at 7:30 p.m. July 8 at the Cathedral of St. John in the Wilderness. She will be joined by the Jubilee Youth Chorale of the Episcopal Church of our Savior, New York, under the direction of Soon-Eng Lim Chao, and pantomime artist Doug Berky.
The Jubilee Ministry program, begun in 1982 by General Convention, has worked ever since to build "a ministry of joint discipleship with poor and oppressed people wherever they are found, to meet human needs and build a just society." Jubilee ministries are community-based centers, offering programs such as job training and placement, AIDS ministry, day care for children or adults, English as a second language, affordable housing, volunteer development, gang alternatives and parenting skills.
Congregations interested in becoming a Jubilee center can contact the Rev. Carmen Guerrero, national Jubilee officer, at the Episcopal Church Center, 800334-7626, ext. 6052; cguerrero@dfms.org.