New name announced for venerable agency
BY NAN COBBEY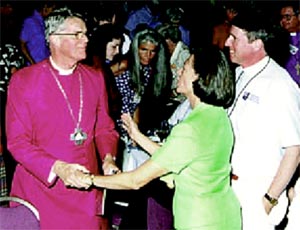 60th ANNIVERSARY LUNCHEON Sandra Swan, executive director, greets Presiding Bishop Frank T. Griswold, president of the newly named Episcopal Relief and Development (formerly the Presiding Bishop's Fund for World Relief) following a special luncheon on Thursday.
The Presiding Bishop's Fund for World Relief will now be known as Episcopal Relief and Development. Presiding Bishop Frank T. Griswold made the announcement at a luncheon July 7. "The present name, though historic, is cumbersome," said Griswold of the agency, which is celebrating its 60th anniversary at this General Convention. "A number of newspapers will not carry [the name] and in no way does it identify the Episcopal Church."
Sandra Swan, executive director of the fund, believes the new name more clearly describes the mission of the fund. "Emergency relief has always been a focus of our work and will remain so. But Phoebe Griswold asked and answered two essential questions about Episcopal Relief and Development July 7 as she addressed the 750 people attending the agency's luncheon at the Hyatt Regency. "What gifts havewebeengiventhrough this organization that are part of God's ecology, God's gift of life, that we are to give away?"
Griswold, who has traveled to Honduras, Nicaragua, the Carolinas, Jerusalem and the Middle East for the agency, until July 7 known as the Presiding Bishop's Fund for World Relief, described her visits and told how, in each place, she tried to discern the particular "charism" of her church, asking always "What is it that Episcopal Relief and Development can do that no one else can do?"
Her answers focused on a structure that "allows us to move resources very quickly ... to meet immediate needs" and the sensitivity that means serving all those in need, not just members of the Episcopal Church. Griswold, wife of the presiding bishop, we know that well-defined development programs that attack the root causes of poverty and disease can sometimes prevent emergencies, so we are expanding our work in this development area." Swan also stressed the agency's desire to "emphasize our identity with the Episcopal Church. We serve as the bridge between concerned Episcopalians and people in need in the United States and abroad. We work on behalf of each member of the [church] and our name should reflect that connection."
Last year contributions to the fund topped $10 million for the first time, Swan said.
—Nan Cobbey is features editor for Episcopal Life.