Dallas deputy resigns after salting incident
BY GENIE CARR AND JOE THOMA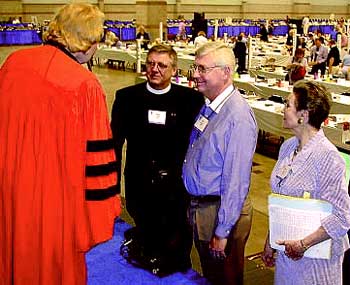 Dallas deputation confers with president Pam Chinnis before making a formal apology to the house. photo/DICK SNYDER
In a statement read in both houses at the opening of the July 8 legislative sessions, the deputies from the Diocese of Dallas announced the resignation of the Rev. Nelson W. Koscheski from that deputation.
Business in the House of Deputies was temporarily halted during the July 7 afternoon session while salt that Koscheski had spread under the tables of several diocesan deputations was cleaned up.
The deputation of the Diocese of Dallas made an official apology to both houses for the action, which they said was "offensive and hurtful to members of the House of Deputies individually and collectively.
We are profoundly sorry for any breach of the decorum of this house, and we ask forgiveness and prayers for all who have been affected by this grievous incident." The statement was signed by all of the deputies from Dallas.
Bishop James Stanton (Dallas) called the incident "very regrettable" and said he plans to follow up pastorally after the convention.
During a press briefing on the morning of July 8, the Rev. Gayle Harris (Rochester) said she understood the action to be connected with exorcism, salt being an agent of purification." She added that the disruption also provided a "moment of grace," when, during the recess to clean up the salt, many deputies gathered to sing.
Herb Gunn (Michigan), a lay representative of the House of Deputies, said that the incident "was an assault -- and that will print however you want to spell it -- of one deputy on another." Like Harris, Gunn emphasized the grace-filled response of the house, and of another deputy from Dallas who apologized immediately after the incident on behalf of his deputation.