Stage set for Werner's new role
BY BOB WILLIAMS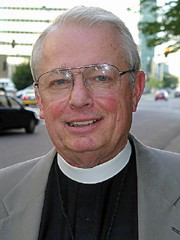 If a figurative sequel to Broadway's "West Side Story" were to be staged within the context of the Episcopal Church, veteran priest George Werner would write the script so that the rival gangs, the Sharks and the Jets, find a way to make peace and get along. "There'd be `a new way of living, a way of forgiving,"' says Werner, quoting familiar lyrics in an interview just after his election Saturday as president of the General Convention's House of Deputies.
"We can reach out to each other. We can be a community. We can find a way so that Tony and Bernardo and Riff don't end up dead on the street," Werner said, conjuring views of a church in which old bygones are set aside and new mission is embraced.
"Hey, I've seen it happen," says Werner, 62, who retired last December after 20 years as dean of Pittsburgh's Trinity Cathedral. He has also served since 1994 as vice president of the House of Deputies. "I saw it happen when Executive Council went to Honduras where [together] we helped build houses. We got the job done," he said, "and that teamwork superceded all the differences."
Werner describes his leadership style in this way: "I build coalitions." He said Pittsburgh's mayor attested to this claim at a recent "roast" where, speaking to Werner's ability "to get people to the table" he declared: "I have never seen so many opponents and enemies together in one room."
The Pittsburgh Post Gazette, meanwhile, agreed in a Dec. 3 editorial hailing his roles in helping the poor meet their utility bills, in sharpening ethical considerations around organ transplants, in the revitalization of the city's downtown areas: "Werner has been the high priest against pessimism. He has exhorted Pittsburghers to take pride in this place and to make it better. As to his service to the church, by all accounts he has been a moderate and a conciliator."
Werner says his approach begins with inclusion: "I insist on having all the voices at the table. Not for political correctness and not for tokenism. If voices are not at the table, theconversation can't take place." Asked how he might apply his skills to current church issues such as the blessing of same-sex unions, Werner replied: "If you went out and talked to the various groups, you would find that I had strong support from the AAC, Integrity, UBE, and the Women's Caucus. Each group might say I don't agree with them all the time, but they'd all say I am militantly fair." (The AAC, or the American Anglican Council, opposes the blessing of samesex unions, which are advocated by Integrity's membership of gay and lesbian Episcopalians and their friends. The UBE, meanwhile, is the Union of Black Episcopalians.) Werner received 431 votes in Saturday's balloting--407 votes were needed for election. In his acceptance speech he paid tribute to the Rev. Reynolds Cheney of West Tennessee who received 232 votes, and the Rev. Randolph Dales of New Hampshire, for whom 149 votes were cast. "The heck with the rules of order," Werner said. "I hope you will applaud them."
Werner is no stranger to the House of Deputies. "I've worked under four presidents (John Coburn , Charles Lawrence, David Collins and Pamela Chinnis). Each has been different, and I'll be different, too," said Werner, who served six years on Chinnis' Council of Advice, and another six-year term in similar counsel to Collins. "I've learned a lot from Pam Chinnis," he said. "She has served during a difficult period in the life of the church. She has greatly updated the work of this House." He praised Chinnis' communicationwith deputies between meetings of the House, and the clarity of her grasp of the polity of the church.
A self-described "old coach and sportscaster on the side," Werner recalled that Collins was "an even bigger baseball fan than I." And when Werner takes up the gavel at the conclusion of this meeting of the House, he will bring to the dais his skill of "calling colors," in which amateur role he has been visited on occasion by pros Ted Williams and Kurt Gowdy. An Irish German native of Queens, N.Y., Werner first served churches in Connecticut and New Hampshire following his ordination and his graduation from Berkeley Divinity School in New Haven, Conn.
Werner and his wife, Audrey, have four children and nine grandchildren and recently celebrated their 40th wedding anniversary. "It's exciting," Werner's wife said of her husband's new term of office. "I look forward to it."
And should Werner hit any snags in bringing that new "West Side Story" to the House of Deputies, he can call up from his resume yet another set of skills. As he put it: "I've done a lot of jobs. Once I was even captain of a nightclub in a Jewish resort in the famous Borscht Belt."