Pam Chinnis feted as tenure comes to close
BY SUSAN ERDEY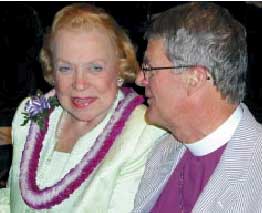 Pam Chinnis shares a light moment with Presiding Bishop Frank T. Griswold during Sunday evening's celebration. photo/DICK SNYDER

Strains of Nat King Cole's "Unforgettable" greeted House of Deputies President Pamela Chinnis as she arrived at the Marriott Sunday evening for a joyful celebration of her ministry. Members of the General Convention youth presence escorted Chinnis to the platform then took up seats behind her -- a reflection of the support Chinnis has always given to the youth of the church.

For the next two hours, representatives from around the church paid tribute to the first woman president of the House of Deputies. Chinnis'daughter, Ann, described her mother as a "values-based leader" who has "manifest respect for those who follow," understands that "leadership must refine and enlarge the public view," and "will not tolerate bigotry."

Asked why there was an extra chair next to Chinnis and Presiding Bishop Frank Griswold, emcee David Booth Beers, chancellor of the EpiscopalChurch, explained the tradition in the House of Bishops of leaving an extra place "for any former Presiding Bishop who might wander in off the street." At that moment, former Presiding Bishop Edmond Browning sauntered in to cheers and a standing ovation and took the empty seat next to a surprised and delighted Chinnis.

Chinnis received numerous gifts and accolades during the evening, including a specially-designed cross and signet ring with the seal of the General Convention and another cross designed for her from the Native American community. Forward Movement announced its publication of Decently and In Order, a collection of Chinnis' writings. Ginger Paul, the Rev. Fran Toy, Virginia Norman, Diane Pollard and Marge Burke were among those representing the women of the church, who presented Chinnis with a copy of the newly-published Women's Uncommon Prayers, one of which Chinnis penned.

Bishop Browning joked that he is "an advertisement for retirement," relating that his blueberry patch in Oregon had produced more than two tons of blueberries last year. He donated profits to Episcopal Relief and Development (the former Presiding Bishop's Fund for World Relief). Presenting Chinnis with a pint of freshly picked blueberries, he invited her to join him in partnership in the blueberry venture. Then, speaking seriously of the "latter six years" of his term as Presiding Bishop,which were "filled with challenges I never expected," he praised Chinnis for her wise counsel and her loyalty. "Pam was the first person I called" when news of the embezzlement crisis hit, Browning said, andhe credited her withdoing "more to restore the credibility of the Episcopal Church than any [other] one person."

Musical offerings included a serenade by Church Center staffers and a rousing audience rendition of "Lift High the Cards," written in 1994 by deputies from Mississippi. Testimonials from Louie Crew,ByronRushingandOwanahAnderson, representing the gay and lesbian, African American and Native American communities, followed a choir's performance of "You've Got To Be Carefully Taught" from South Pacific. They spoke movingly about Chinnis' fierce commitment to the causes of justice andovercoming hatred.

Presiding Bishop Frank Griswold echoed the praise heapedonChinnisthroughout the evening. "I can only say `Amen' to so much of what has been said tonight." He added, "You have been a wise counselor, you have a wicked wit and you're a wonderful friend. Bless you."

Griswold unveiled the first Presiding Bishop's Faith and Public Service Award, naming Chinnis as its inaugural recipient, "one who sets a high standard for future recipients." The award, to be presented annually, honors "a lay member of the Episcopal Church who, in public life, has demonstrated fidelity to the values of the Gospel following the Anglican way," and "holds up as an example to other people of faith that they may also serve as witnesses and models of courage, commitment and love that rejoices in the truth."

At the close of the evening, Chinnis thanked the crowd. "I'm speechless!" she said. "What a long way from the Ozarks. Thank you and God bless you all."