Strengthening college chaplaincies will help clergy recruitment
BY SUSAN ERDEY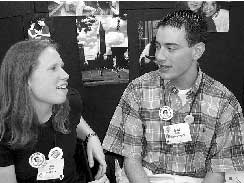 (left to right) Gale Kenny and Jared Smith are among the college students attending General Convention as volunteers for the Episcopal Society for Ministry in Higher Education. photo/DICK SNYDER

Campus ministries have long been a ripe mission field for attracting young people to the Episcopal Church, particularly as a place to raise up young people for ordained leadership. However, more than 200 college and university chaplaincies have been closed or severely cut in the last 30 years.

The Episcopal Society for Ministry in Higher Education (ESMHE) is working to reverse the trend, and to raise awareness of the importance of campus ministries in the effort to recruit younger clergy.

The Rev. Tim Hallett, former president of ESMHE, says it's "a simple equation." By cutting back on campus ministries, he said, "we turned off the tap 20 years ago, and now there's no [clergy] under 50." Indeed, there are fewer than 300 clergy under 35 in the church. Hallett does see a shift in attitudes across the church about campus ministries. "In the past, it was kind of `well, isn't that nice,' but the church [understands] that we've dropped the ball and we've got to remedy that." He noted that the 1997 General Convention called on the Episcopal Church to include young people at all levels of church leadership, "and then the median age [of deputies] went up!"

Fifteen student volunteers from across the country are at General Convention as ESMHE volunteers, researching legislative topics and attending or speaking at hearings. Gale Kenny, from Houston, TX, is a senior at Northwestern. She's been researching resolutions on the death penalty and talking about ESMHE to anyone who will listen. "You can talk to people in the strangest places," she said. "Walking from the hotel, youcan introduce yourself as an ESMHE volunteer."

Jared Smith, a junior at the University of Oklahoma, has been focusing on young clergy "and the lack thereof," he said. He's writing an article for Issues 2000, a publication of The Consultation, on the topic. He believes the ESMHE volunteers are making an important contribution because "people are seeing that we're not merely the youth presence, we're young adults and we have something to say."

Much of the church's youth programming is not geared to college-age students. "We go home in the summer and the only programs are either high school youth groups or `singles groups.' That's not a good message to send, and ESMHE offers us an alternative."

Smith and Kenny cite Sarah Harte's candidacy for Executive Council as a great example of what ESMHE does. Harte, a 23-year-old deputy from Arizona, will be nominated from the floor, and her candidacy is being promoted by ESMHE. Smith is already intrigued enough and inspired by Harte to consider running for deputy from his home diocese of Oklahoma.