Witness to faith and perseverance
BY DALE GRUNER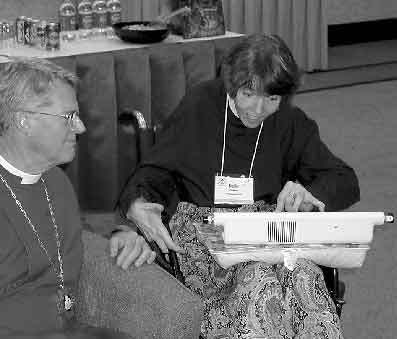 Nellie Greene and Presiding Bishop Frank Griswold reflect on her reading of the Gospel at Monday morning's Eucharist. photo/DICK SNYDER

Almost a year and a half ago, the Rev. Elinor (Nellie) R. Greene, deacon in the Diocese of Pennsylvania, told her friend Helen White that she had a dream to read the Gospel at General Convention. Yesterday morning, Greene fulfilled that dream using a device called a phonic ear (a kind of talking laptop), bringing tears to the eyes of many.

As a result of a 1970 auto accident, Greene is crippled with rigidity, is legally blind, is unable to write by hand or speak and is dependenton a wheelchair or walker for mobility. "I communicate with a talking laptop PC, a big IBM PC, as well as with a smile and my eyes," Greene writes. After the accident, Greene graduated from Hampshire College Amherst, MA, and Yale Divinity School, did an interim year of post-graduate study at the University of Illinois and trained at the Philadelphia School for the Diaconate before ordination by Bishop Allen Bartlett in 1993. Greene first met Presiding Bishop Frank Griswold and his wife Phoebe when she returned from New Hampshire. Griswold was then the new rector of the church she attended—St. Martin's in the Field, Philadelphia. "The first time I heard Nellie preach, it was through the voice of Frank Griswold," said White. Greene invites someone to deliver her sermons, then rehearses them until the surrogate gets the inflections just right.

Greene's dream to read the Gospel at convention began to take shape when White made a call to Episcopal Community Services. They contacted the Presiding Bishop's office, and Griswold referred the request to the worship committee. A special ramp was built as part of the Convention altar so that Nellie could be wheeled up. The Convention sound engineers were highly skeptical of Nellie's plan to have a mic hand-held in front of her phonic ear, but the rehearsal proved her to be right.

"It was scary," Greene said through her laptop. "It was scary because of the responsibility." Her smile and her shining eyes clearly showed how happy she is to have fulfilled her dream.

Greene currently serves at The United Methodist Church, Chestnut Hill, where she also served while a student in diaconal school. "It's very close by and handicapped accessible," her mother, Cookie Greene, said. Her ministry includes the normal liturgical functions of a deacon, including regular preaching, butshe writes that her primary ministry "is to bridge the gap between able-bodied people and people with disabilities. To explain what disability is all about, and decrease the fear and alienation which marginalize us."