Joint session receives budget today
BY SHARON SHERIDAN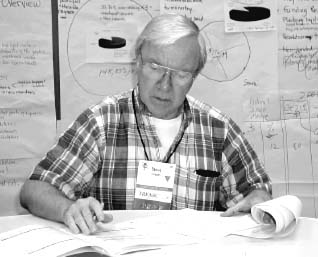 Treasurer Steve Duggan burns the midnight oil to finalize proposed budget. A joint session will receive the budget today at 2:30.

photo/DICK SNYDER

The Joint Standing Committee on Program, Budget and Finance will present the proposed triennial budget at a joint session at 2 p.m. today. Among those anxious to review the proposal will bemanywhopresented requests for funding during the committee'sexpense hearing last week.

Some causes had several champions at the hearing.

"It costs infinitely more to incarcerate a young man than it does to educate him," Executive Council member James Bradberry (Southern Virginia), told the committee. He was one of several speakers urging support for the three historically black Episcopal colleges and for the single-parent support program at two of them.

"They are producing leaders, and we need leaders," said Assistant Bishop Donald Hart of Southern Virginia. Both lay and clergy spoke passionately in favor of the Church Pension Fund's CREDO project, which promotes clergy wellness.

The Rev. Virginia Herring of North Carolina called her participation in CREDO a "great gift ... of rest and restoration," and Terry Roberts, (Minnesota) said her parish had been "revitalized and excited" after their priest had attended. "It's no secret the Pension Fund has a lot of money," said deputy Matt Chew (Arizona), an outgoing Pension Fund trustee. "We're asking [for support] as a symbol." He announced an annual $100,000 grant for CREDO from the Episcopal ChurchFoundation for the next five years.

Multiple speakers supported a study for a new national archives facility; the Alleluia Fund (an initiative to encourage giving for church development and revitalization during the 50 days of Easter); an appropriation to foster dialogue for renewing and revising liturgy and funds to hire provincial coordinators.

Bishop George Packard, bishop suffragan for the armed forces, health care and prison ministries, stressed the urgent need for assessing prison ministry. "The one thing that makes this different is the enormity," he said. "We don't have the funds to do the job. Fifteen million people are affected. ... We can't even count the number of confinement facilities in the United States today."

The two million people incarcerated also represent a unique evangelism opportunity, reminded the Rev. Jackie Means, prison ministry director.

The Rev. Virginia Nagel, president of the Episcopal Conference of the Deaf, told the committee only 10 percent of deaf persons are churched in America. Her appeal for increased funding for an administrative grant drew applause.

Noting that theynever before hadasked for help, Bishop Leo Frade (Honduras) requested seed money for international Cursillo programs in order to "transform and make more disciples." "We need you now," he told the committee, adding, "This is our time, and we must respond."

People also testified on behalf of the National Episcopal AIDS Coalition, the Episcopal Society for Ministry on Aging, in support of hiring a national church reconciliation coordinator and in favor of "20/20: A Clear Vision." Testimony was also received in support of the Economic Justice Loan Fund, the Episcopal Youth Corps, youth education, congregational ministries and mission personnel office at the Episcopal Church Center, the HaitiDominican Republic migration program and the Committee on the Status of Women, among others.