Unsung heroes of General Convention
BY TOM BECKWITH
Now that U.S. Customs in Seattle has released their denim vests, volunteers to the 73rd General Convention are more recognizable to convention goers. Diane Moore, a Colorado deacon who served as volunteer coordinator, reports 1,254 people had volunteered by Monday. That's a lot of denim.
For some volunteers, the opportunity to serve has brought few surprises. For others, it has been an eye-opener. Robert Kniss, a parishioner at St. John's Cathedral in Denver and a former Methodist, recalls playing the organ for the Methodist General Conference in 1960.Now he's serving as a chalice minister and station verger during the daily Eucharistic services. Kniss has been impressed by the egalitarian spirit of the convention. "Bishops, priests, deacons, laity---all seem to be equal," he said .
One volunteer, a self-described "cradle Episcopalian" who claimed to be "old high church," recalled her astonishment at meeting Bishop Mark MacDonald of Alaska. "He had a pony tail," she said, "and he wasn't wearing clericals. I've never seen anything like that in my life."
Casting the net wide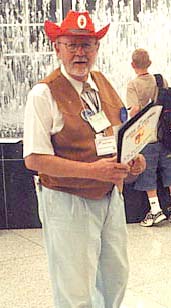 Emory Walker greets fellow Episcopalians at Denver Airport.

photo/TOM BECKWITH

Moore related her delight at finally being able to "put faces with names." She had traveled to every state contiguous with Colorado, including Wyoming, Utah, Kansas, Nebraska and New Mexico as well as Texas to draw volunteers. The "huge job" has taken six assistants besides Moore.

Sue Ann Raymond arranged housing for more than a hundred volunteers. "The people of Colorado have been wonderful in opening their homes," she said. Moore added that the volunteer staff had frequently been astonished by the "God element" when they were able to match volunteers with housing hosts who shared interests.

When asked what his job was like, Emory Walker, the volunteer coordinator who staffed the Denver International Airport welcoming effort, said, "It's been the best job of all. We got to meet bishops, deputies, visitors---everybody---before they got mad at anybody." Walker also had praise for the other organizing committees. "I've been to four General Conventions, and I've never seen one better organized or run."

John Flannigan, a part-time Colorado resident who divides his year between Colorado and California, admitted to being overwhelmed by the Sunday Festival Eucharist. "I'm not used to seeing people dancing in church," he said, "especially when they're wearing clericals." He's planning to volunteer at the next General Convention, and has already obtained the e-mail address of the coordinator in Minneapolis.

Laura Shaffer and Roxie Wilkinson had both attended earlier conventions. They agreed that the key to the tone of convention was the "powerful worship," which they attribute to the leadership of Presiding Bishop Frank Griswold. "I remember being so impressed after the election of the Presiding Bishop, whenBishop Griswold was asked what Jesus meant in his life," related Wilkinson. "He replied, `Jesus is my life."'

Members of the Colorado organizing committee as well as diocesan leaders, were unanimous in expressing their gratitude to the volunteers. "They've made us look so good," said one. "They're the unsung heroes of convention."