Many publications inform convention
BY MARIE PANTON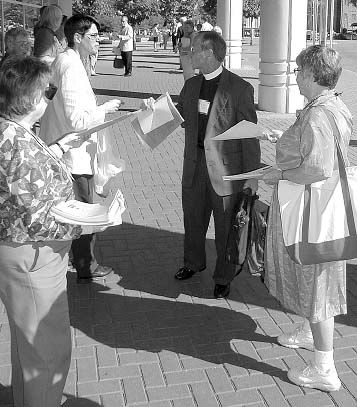 Media representatives hand out copies of their newsletters to everyone entering the Convention Center.

photo/DICK SNYDER

While the Convention Daily reports each day's news and events, there is a multitude of alternative publications during General Convention which offer a spectrum of thought, even the center.

A sampling of news and opinion-editorials begins with the UnConventional Times, a publication of the Gathering the neXt Generation Network. Warning that all opinions in the Times are those of the reader, the newsletter is published by a team of thirty-somethings. The premier issue lists "The New York Times downloaded onto a Palm Pilot and the new Harry Potter book" among their reading preferences.

"We wanted to insert a little humor in General Convention. Gen neXt tends to take a skeptical, ironic stance to institutional structures," said the Rev. Chris Rankin-Williams of Los Angeles, editor. Writers also challenge convention goers in the "What Would Jesus Do" column, because "as GenX Christians we face many challenges as we navigate postmodern culture," according to the publication.

Produced at the GenNext booth(97A), it is printed at a local Kinko's. Copies are distributed in hotel lobbies prior to morning committee meetings and even at the hotel bars, said Rankin-Williams. "Now that we have everyone's attention we want to do something else [with subsequent issues]. If we are the Body of Christ, Jesus does not seem to laugh very much at this Convention," said Rankin-Williams.

Issues 2000, a newsletter that expresses the opinions and concerns of a consortium of social justice agencies that include Episcopal Peace Fellowship, Integrity, and Episcopal Urban Caucus, called the Consultation, is produced daily, and also offered on the Internet, www.theconsultation.org. Published from the editor's hotel room at the Marriott Courtyard and printed at a local copy center, the focus is on responses to legislative actions that affect the future of the different groups.

"This is an opinion piece that pays attention to the concerns of the constituent groups, social issues such as peace, justice for people regardless of gender, race, economic status and age," said Michael Shirley, managing editor.

Center Aisle, produced by the Diocese of Virginia, is almost entirely an opinioneditorial newsletter, according to Patrick Getlein, editor. A daily paper, produced in Getlein's suite at the Holtze Hotel, with a staff of eight and seven youth from the diocese who help with the distribution, the focus is to give voice to those in the church united in mission, he said. "[Center Aisle] gives voice to the church's faithful moderate center," said Getlein. "The Episcopal Church at General Convention is often at risk as being defined by extremes of opinion, andCenter Aisle hopes to present a balanced perspective on the issues that asks if they contribute to our unity and do they contribute to the mission."

GC2000 Encompass, a daily produced bytheAmericanAnglicanCouncil(AAC) at the Denver Athletic Club and also printed at Kinko's, focuses on the vision of the AAC, and other commentaries.

"We can be a witness for God, what we see as God's truth and plan for our church," said Bruce Mason, editor. "We hope to be a voice for the orthodox who may be isolated and be a witness of God at work in our church ... an offering of hope."