Young deputy finding his way in Convention
BY SUSAN ERDEY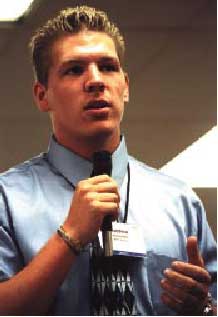 photo/DAVID SKIDMORE

This is a year of firsts for Matthew Holcombe, at right, one of the youngest deputies at the 73rd General Convention. The Clarksburg, West Virginia resident has just completed his first year at Shepherd College, and is attending his first General Convention as a deputy from West Virginia.

"I have a sense of being overwhelmed," he admitted. "It's hard to take it all in at once. But it's been an eye-opening experience into the political side of the church." Holcombe had attended other conventions in high school "for student council, so I had some experience with the terminology."

Unlike some of the other younger deputies, Holcombe has been assigned to a committee -- National and International Concerns -- and found that committee work "helps to understand what [work] goes in" to the development of resolutions. Holcombe has been thoroughly immersed in the legislative process--his committee has dealt with more than 40 resolutions. Among the issues the committee considered were non-violence, human rights, HIV/AIDS, civil rights and persecution in Indonesia.

In the beginning Holcombe believes the committee thought "`Uh-oh, what are we going to do with someone under 25?"' But it's "different now than when I first came, in terms of the youth presence" and the attention paid to younger deputies. As General Convention comes to a close, Holcombe feels "listened to," in his role as deputy and committee member.

He is pleasantly surprised by "how open people are to what others have to say. It's not too often that people are hardheaded. They do care about what others have to say."