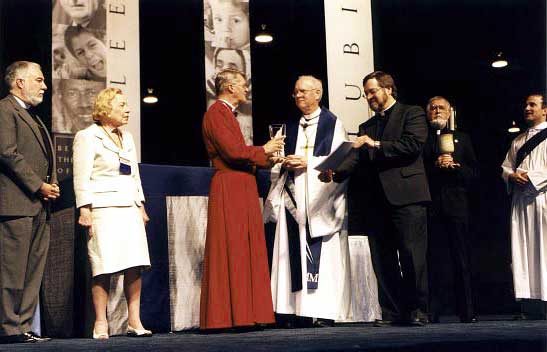 Presiding Bishops Frank T. Griswold and H. George Anderson exchange chalices at Wednesday worship to celebrate approval of Called to Common Mission.
photo/JEFF SELLS
Morning worship a time for sharing
BY SUSAN ERDEY
General Convention begins each day in prayer, as bishops, deputies, Triennial delegates and visitors gather for meditation and Eucharist. Building on a pattern established over the last several conventions, participants gather at round tables in groups that represent the full diversity of the church. Each day's service has featured a different celebrant, different styles of music and language and a meditation on Jubilee from Presiding Bishop Frank Griswold.
Wednesday's Eucharist celebrated the culmination of years of work between the Episcopal Church and the Evangelical Lutheran Church in America (ELCA) on Called to Common Mission (CCM), as ELCA Presiding Bishop H. George Anderson participated in the service, addressed the gathering and exchanged chalices with Griswold.
Worshippers have responded positively to the daily services. The Rev. Rick Cluett (Bethlehem) said he has "enjoyed every one. They've been worshipful and meaningful. Our table group has really gelled [in the daily discussions]. The variety of music, prayers and liturgical settings has been great, and the Jubilee theme has been ever present."
Paul Rasmus (Southeast Florida) said he's found the daily services to "be one of the highlights of my day. I've enjoyed the opportunity to share with people from different parts of the church [who are here in] different roles."
Sidney King (Newark) would have preferred hearing a variety of preachers. "I would have thought that the Presiding Bishop would preach the opening and closing services. More diversity wouldhave been nice." King anticipated Wednesday's Eucharist, celebrated partly in Spanish, to be welcomed by participants. The Episcopal Church is made up of many cultures, King said, and the liturgy eventually needs to reflect that diversity. Priscilla Bates-Makarias, a doctoral student at the Episcopal Divinity School in Cambridge, Mass., a convention visitor, found it "amazing" to worship with 3,000 people every day. "I'm very pleased we've been using Enriching Our Worship, and the music has been fabulous," she said.
She found the Jubilee Eucharist last Thursday "very powerful. It was amazing to watch people walking the labyrinth," she said. "I thought it was the perfect metaphor for the church and the difficult conversations we find ourselves in. Everyone is in the labyrinth together, walking slowly, and sometimes you have to step aside and let someone who's farther along on the journey move ahead of you. We're all in different places on that path, and we have to do it cooperatively. Some people might be angered by the slowness, some might be lost in the experience, but we're all on that journey together."