Crew's e-efforts a plethora of dats and stats
BY DALE GRUNER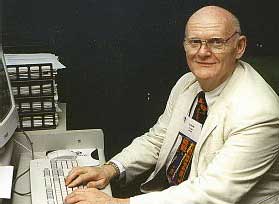 photo/DICK SNYDER

Want to know how your congregation stacks up against national averages on giving? From 1850 to 1997? Curious as to who is the youngest bishop? Want to know how many deputies are persons of color? For answers to these and many other questions involving data or statistics about the Episcopal Church, the curious turn to the unofficial source, http://andromeda.rutgers.edu/~lcrew the home page of Dr. Louie Crew, professor of English at Rutgers University, deputy to General Convention from Newark and newly elected member of Executive Council.

How does a professor of English become the source of such data? According to Crew, his fascination with numbers began early in life. His mother was the head teller at a bank in Alabama, and drilled the young Crew on his multiplication tables early in life. "I had to get it right," Crew said, "and it once took until 4 a.m. until I did." Crew added, "I guess I've been fascinated with numbers ever since."

Crew gets his basic data from published sources. What he does, he says, is put the information in "accessible form" that is useful in answering questions. "Most of what I put up is because I want to know the answer myself," Crew said. In some cases, Crew adds his own interpretation of the numbers, and invites others to comment as well.

Dip into his data on "Charting the Episcopal Church" and you will find not only graphs of communicants and average giving from 1850-1997 (using data from the 1999 Episcopal Church Annual), but also thoughtful commentary by others factoring in inflation data, leading to different interpretations.

"If I'm doing a search for church documents, I start at Louie's pages," the Rev. Stephen Lane (Rochester) said.

His sentiments were echoed by another fan, the Rev. Mark Hollingsworth (Massachusetts). "It's the only place in the church where you get an accurate view of things," he said.

One resolution (A075) before Convention calls for the new position of Officer for Institutional Research and Information Management. "We desperately need that," Crew said.

Crew's pages also include information on the Anglican Communion, documents, papers and commentary by others that Crew thinks are sufficiently important to have wide distribution, and information that supports the full inclusion of gay, lesbian and transgendered persons in the life of the church. "The questions I get from people who access the website reveal so many opportunities for ministry," Crew said. "I try and answer each and every one, or pass along the request to someone who can help."

Viewers are invited to sign his guest book, which provides an opportunity for comments, including negative ones and the occasional hate mail. "Actually I get very little hate mail," Crew reported. "So what I get, I leave up."

For an unofficial source for information on the church, Crew's pages have been referenced often --- more than 329,000 times since February of 1996.