Pamela Chinnis bids farewell to House of Deputies
By Genie Carr and Jan Nunley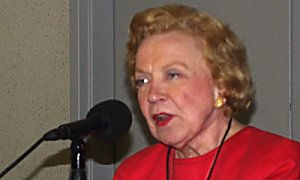 Pamela Chinnis at news conference

photo/PATRICK HILL

Much has changed in the House of Deputies since Dr. Pamela P. Chinnis first attended General Convention. Women are now deputies in both orders, technology has made the work more efficient, and deputies' clothing has become "dress down."

Chinnis spoke of those changes Friday morning, July 14, in a "communication" to the house as she began her last day as its president. She also spoke of things that do not change, praising some and offering caution on others.

"I commend you for your civility in debate, and your gracious conversation," Chinnis told the deputies. The convention's agreement with the Evangelical Lutheran Church in America "is certainly an ecumenical milestone," and the "compromise measure so carefully crafted by the special Committee 25 advances the conversation on relationships and sexuality, creating a new basis from which to consider the topic."

Chinnis also applauded improvements in the decision-making process, particularly the increased effectiveness she attributed to the work of the cognate committees. In addition, she noted that the principle of the cognate committees — in which members of each house hash out resolutions before they are brought to the houses for debate — was expanded this year. Many bishops were part of the Committee 25 process, which dealt with matters of sexuality, and the House of Bishops is expanding its theology committee to include laity and clergy.

"Such communication and understanding will lead both to greater efficiency in our legislative work, and to greater likelihood that our collective discernment will be shaped by the Holy Spirit rather than by our own limited and often fearful agendas," Chinnis said.

Sand into pearls Moving on to more thorny issues, she said, "Many things seem to have become perennial items — women's ordination, gay men and lesbians in the life of the church, and the area of church discipline, which is in turn an aspect of authority."

But, she said, she has come to appreciate those perennials: "I have come to think of these recurring issues as grains of sand in the oyster," constant irritants that require attention until they are resolved. "Perhaps we can even consider the results as pearls adorning the Body of Christ, a result of the patient labor of God's people in search of God's will."

As changes occur in the church, she said, people can grow uneasy. "People must be flexible and willing to adapt in order to survive — and so must institutions," she said. Tension and the search for balance will continue, and that's "not necessarily a bad thing," she added. "In a building there must be tension between structural elements, or it will collapse under its own weight. Tension gives stability and balance to the life of the church."

One tension she addressed at some length is that between the House of Deputies and the House of Bishops. She cautioned the deputies to vigilance. "The integrity of the House of Deputies is perennially at risk," she said. "The two houses are separate but have never been equal and cannot be equal" — despite Deputies' being "the senior house."

She noted that bishops have a smaller, closer-knit community. They meet at least twice a year and, at least in the past 10 years, have been intentionally building community. They also have a distinct identity: Their job is to be bishops; their identity is as bishops for the rest of their lives. On the other hand, deputies have their own jobs back home, whether as clergy or in myriad lay occupations; they also have fewer opportunities to meet together — once every three years.

Technological advances such as e-mail and Web sites will increase opportunities for creating communities, Chinnis said. However, she also urged the deputies "to keep in mind the necessary tension and balance between the houses. Without our vigilance, the bishops and the bishops' staff can easily lose sight of their need for the House of Deputies.

She continued, "I believe in the fundamental principle of Episcopal polity: that bishops, clergy and laity have equal response and authority for decisions facing this church. When we or they fail to recognize each other's gifts, we forfeit the precious gifts of humility and hospitality."

As Chinnis ended her "communication," she paused a couple of times, overcome briefly by emotion. She thanked the deputies for their work. "Continue to bring your great devotion to the task," she said, "and most especially to the will of Jesus Christ, who has called us to work in this particular vineyard."

When she had finished, the deputies rose in a standing ovation and waved their green cards — symbols in past conventions of a "yes" vote. An electronic keypad has largely taken the place of the cards — one of the technological changes to which Chinnis had referred.

After Chinnis had sat down, the Rev. George Werner, the house's vice-president and president-elect, announced that $6,500 would be donated by the House of Deputies to the charity of Chinnis' choice.