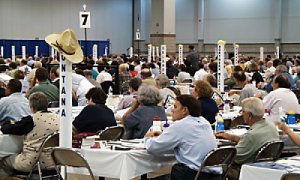 House of Deputies in final session.
photo/PATRICK HILL
Spirit of gratitude marks deputies' closing session
by Genie Carr
"The chair senses that she is losing control of the house." That lighthearted comment by Dr. Pamela Chinnis was indicative of the mood of the House of Deputies in its last 1˝ hours of business on July 14 at the 73rd General Convention.
The house adjourned two hours earlier than expected, following an afternoon of rejecting resolutions on structure, adopting resolutions of gratitude, and concurring with actions of the House of Bishops. The only action that drew debate was the rejection of resolution C005, which called for the national church to adopt the tithe as the basis for funding.
The Committee on Stewardship and Development recommended that the house reject the resolution because, although the tithe has long been the standard for individual giving, such a basis for giving to the national church could mean reduction of giving by half of the current 21 percent of "asking."
Even so, deputies from the Diocese of Southwest Florida spoke in favor, not of going against the committee's recommendation to reject, but of dioceses basing funding on the tithe as Southwest Florida does. The Rev. John D. Hiers said, "People now are more directly involved in the ministries they are giving to. Our parishioners are spending more of their money on mission."