A review for Anglicans Online
by Richard Mammana
A review of
Johannes Rebmann: A Servant of God in Africa before the Rise of Western Colonialism
By Steven Paas
Giessen: Editions Arbeitskreis für Evangelikale Missiologie, 2011. ISBN 9783941750487 $29.95. Softcover, 274 pages.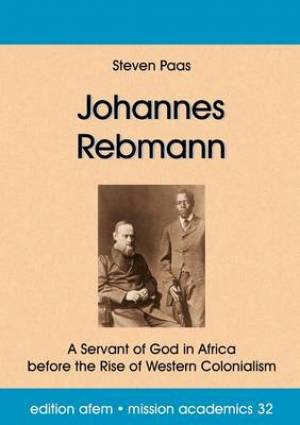 Dutch-trained scholar and linguist Steven Paas has written widely in English on topics from Islam to Donatism and on the academic discipline of church history in general. In his most recent book, he turns his attention to the first English-language biography of the German-born Anglican missionary Johannes Rebmann (1820-1876). For Rebmann's importance in the grand tradition of European missionary-linguist-explorers, church historians have until now had little idea of his significance for the beginnings of Christianity in East Africa.
With family roots in Württemberg's Lutheran pietism, Rebmann trained for the ministry at Basel before his ordination by the Bishop of London in 1845. (It is important to note that he did not renounce pietism or Lutheranism in order to become an Anglican deacon and priest.) In 1846, he traveled to Mombasa under the auspices of the Church Missionary Society, where he joined Johann Ludwig Krapf (1810-1881) as one of the first Protestant missionaries in what are now Tanzania and Kenya.
Just two years after his arrival, he became the first European to see the snow-capped Mount Kilimanjaro (the disappearing Rebmann Glacier near the summit is named for him); geographers at home dismissed his claims of snow in Africa as impossible. He compiled the first dictionary of Chichewa, the national language of Malawi, and worked to adapt other local languages to writing. Yet Rebmann refused to be the recipient of European attention for his activities as an explorer or linguist, and Paas lets his subject speak on this topic in his own words. After receiving a silver medal from the Geographical Society of the Institut de France, Rebmann wrote:
I didn't come here to make geographical discoveries, but to uncover salvation in Jesus Christ for the people who walk in darkness and the shadow of death.
During his 29 years of strenuous activity in Africa without furlough, he pioneered a strategy of missionary engagement with non-Muslim tribal groups just away from the east African coast. This involved a serious study of tribal religions, preaching and eductaion in indigenous languages, and long-term living arrangements alongside local peoples. Rebmann returned to Germany in 1875—aged just 55, blind and physically weak—and died the next year.
Paas' careful book on Rebmann's short and difficult life is worth Anglican attention today for several reasons. The region of eastern Africa in which Rebmann laboured is now the home of a vibrant group of autonomous Anglican churches. Paas rescues from obscurity one of the prime movers in the creation of these churches. Perhaps most importantly, the biography highlights a period during which Anglicans and non-Anglicans worked closely and effectively in missionary situations. The lasting result was a church planted by Lutheran-born and pietist-trained missionaries who were nonetheless sponsored financially by the Church of England and in some measure protected by the penumbra of growing British imperialism in the region. For his elucidation of an important period before the division of East Africa into German- and English-influenced spheres, students of church history and missions in general are in Paas' lasting debt.
---
Richard Mammana is an editor of Anglicans Online. His articles and reviews have appeared in Anglican and Episcopal History, Sobornost, The Living Church, The Episcopal New Yorker, The International Bulletin of Missionary Research, and other periodicals.