A review for Anglicans Online
by Richard Mammana
A review of
A Controversial Churchman: Essays on George Selwyn, Bishop of New Zealand and Lichfield, and Sarah Selwyn
Edited by Allan K. Davidson
Bridget Williams Books, 2011. ISBN 9781877242519 $49.99. Softcover, 292 pages.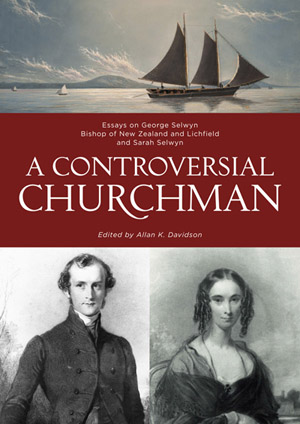 Church historians have never overlooked the major role of George Augustus Selwyn (1809-1878) in the life of the nineteenth-century Anglican Communion. As the first and only person to hold the title "Bishop of New Zealand," Selwyn arrived in 1842 to begin a remarkable missionary career involving the widespread establishment of churches and schools. Selwyn advocated tirelessly for the rights of the M?ori, the indigenous people of New Zealand, and laid the foundations of what would become highly successful Anglican missionary activity in Melanesia. He returned to England in 1868 after a sometimes-quarrelsome missionary episcopate to serve as Bishop of Lichfield. He is commemorated in the calendar of the 1979 Book of Common Prayer on 11 April, the same date used in the Calendar of the Anglican Church of Melanesia.
These broad outlines do not do justice to the ways in which Selwyn's work was simultaneously radical and traditional. A Controversial Churchman, edited by Allan K. Davidson, does much to open new horizons of inquiry to illuminate the ongoing importance of Selwyn's life and vision. Eleven essays, delivered in 2009 in connection with a celebration of the two hundredth anniversary of Selwyn's birth, form the core of the book, along with a foreword by the late Right Rev. Sir Paul Reeves, the first M?ori-descended Governor General and Archbishop of New Zealand.
This collection is especially significant for its specific attention to Sarah Selwyn (née Richardson, 1809-1907), who survived her husband by almost 30 years and lived to the then-extraordinary age of 98. Janet Crawford's essay "A Help not a Hindrance" reviews Mrs. Selwyn's life in New Zealand, described as one "of hardship, of constant anxiety, relieved, cheered, and sanctified by unswerving trust in God, and by indefatigable labour on behalf of the race to whom they were together bringing the message of the world's reconciliation to God in Christ."
Ken Booth looks at a period of Selwyn's life on which scholars have generally spent less attention: his 1868-1878 tenure as Bishop of Lichfield, focusing on aspects of his years there that were informed especially by his time in New Zealand: synods and conferences; the cathedral; the theological college and provision of clergy; local mission within the diocese; and disestablishment. Warren Limbrick writes on Selwyn's effective efforts "to take church principles to do with apostolicity and tradition and re-embody them in the church in the New Zealand context."
Jonathan Mane-Wheoki's essay "Selwyn the Ecclesiologist—in Theory and in Practice" takes the collection in the direction of architectural history in an examination of "Selwyn Gothic" churches in New Zealand. He finds exciting lines of influence between the Cambridge Camden Society, English diocesan architects, their periodicals (especially The Ecclesiologist itself) and theories of "correct" church design. Oddly, however, Mane-Wheoki publishes in 2012 an essay without reference to the 2010 work of Richard A. Sundt covering this ground in a 225-page monograph, Whare Karakia: Maori Church Building, Decoration and Ritual in Aotearoa New Zealand 1834-1863 (Auckland University Press); Sundt does cite Mane-Wheoki's earlier work on the subject in his own investigation. "Selwyn the Ecclesiologist" nevertheless situates the collection fruitfully in the context of material cultural studies, a dimension likely to prove even more informative thanks to digital collections like the Selwyn holdings of the Matapihi collection aggregator.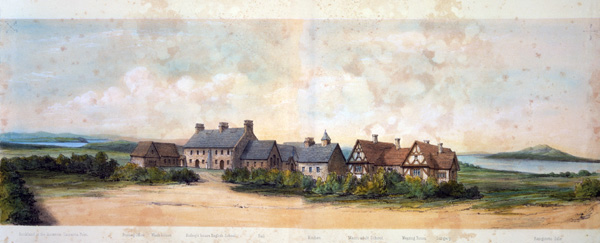 Bishop Terry Brown contributes an especially important essay on Selwyn's visits to the United States in 1871 and 1874. As the first English diocesan bishop ever to visit North America, Selwyn preached to General Convention, and traveled throughout the United States and Canada. Here, he helped to encourage American participation in the second Lambeth Conference, and set in motion strong relationships between English and American dioceses. Brown's exploration of "the missionary hero's prophetic utterances against Anglican sectarianism, individualism, empty pluralism, racism and the supreme Selwyn sin, laziness" is in many ways the most timely in the collection.
A Controversial Churchman is an attractive and well-proofread book, with more than 50 color and black and white illustrations, and a helpful index. It deserves a wide readership for the ways in which it explores the lasting impact of both George and Sarah Selwyn in the formation and growth of the Anglican Communion in the nineteenth century.
An earlier version of this review appeared in The Living Church (Milwaukee), July 2012, pp. 30-31.
---
Richard Mammana is an editor of Anglicans Online. His articles and reviews have appeared in Anglican and Episcopal History, Sobornost, The Living Church, The Episcopal New Yorker, The International Bulletin of Missionary Research, and other periodicals.