A review for Anglicans Online
by Joshua Rodriguez
A review of
Bible, Gender, Sexuality: Reframing the Church's Debate on Same-Sex Relationships
by James V. Brownson; foreword by Wesley Granberg-Michaelson
Grand Rapids, Michigan: Published by Eerdmans, 2013. ISBN 9780802868633 $29.00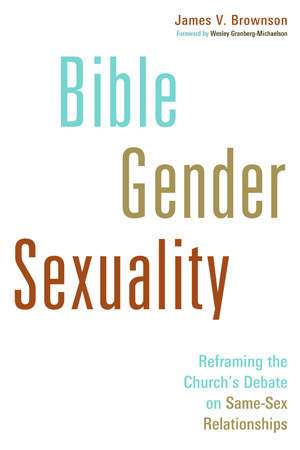 For James Brownson, much of the argument about same-sex relationships among Christians is unproductive because it begins from mistaken assumptions. In Bible, Gender, Sexuality: Reframing the Church's Debate on Same-Sex Relationships, he attempts to correct this by providing a biblical framework to use to guide all discussions of human sexuality and sexual activity, both heterosexual and homosexual, from a Christian perspective.
There is much in Brownson's argument that will be hard reading for both traditionalist and revisionist Christians. Brownson begins his argument by demonstrating why the traditionalist notion of "sexual complementarity" between men and women is foreign to the moral understanding of the biblical writers. Since this concept serves as the foundation for most traditionalist arguments against same-sex relationships, demolishing it causes traditional arguments against same-sex activity to collapse like a house of cards. However, Brownson continues by showing how revisionist attempts to emphasize the distance between the moral universe of the biblical writers and our own contemporary moral universe are equally problematic. Beyond this, revisionist appeals to "overarching themes" of scripture, such as equality, justice, or love, in support of committed same-sex relationships fall short of seriously engaging the biblical text.
Instead, Brownson charts a middle course by examining what he terms the underlying "moral logic" of the Bible's treatment of human sexuality. He does this by examining how the entire biblical witness treats the concepts of patriarchy, the "one flesh" union of man and woman described in Genesis 2, procreation, and celibacy. After accomplishing this in the first half of the book, he turns in the second half to examine the "boundary language" of Romans 1:24-27 through four lenses that would have made sense to the epistle's original audience: lust and desire, purity and impurity, honor and shame, and nature. Viewed through these four interpretive lenses, Brownson concludes that what Paul condemns in Romans 1 is not same-sex relationships in general but a specific example of overwhelming lust, quite probably the imperial household of Gaius Caligula.
Brownson's arguments are well-researched and persuasive. Throughout the book, he seriously engages with his opponents on both the right and the left in an attempt to find a thoroughly biblical framework for the church's discussion on contemporary same-sex relationships. While some readers will be disappointed and unconvinced by his ultimate conclusion that scripture can be interpreted to permit committed same-sex relationships, the real value of Brownson's work is providing a framework to discuss human sexuality in general. Brownson's exegesis of disparate biblical texts provides the church with a thoroughly biblical framework that can be used to address how humans can best flourish in sexual relationships.
Ultimately, this is a book written from the church to the church. Brownson's argument throughout is scholarly in the best sense, but rarely descends into jargon. Readers with a thorough knowledge of biblical criticism will best appreciate the nuances and contours of his argument, but all readers will find the book relatively accessible. This would serve as an admirable jumping-off point for adult formation classes or a church book group.
---