A review for Anglicans Online
by Richard Mammana
A review of
Victorian Châtelaine: Emily Meynell Ingram of Temple Newsam and Hoar Cross
By James Lomax
Leeds Art Fund, 2016; ISBN 9780954797942.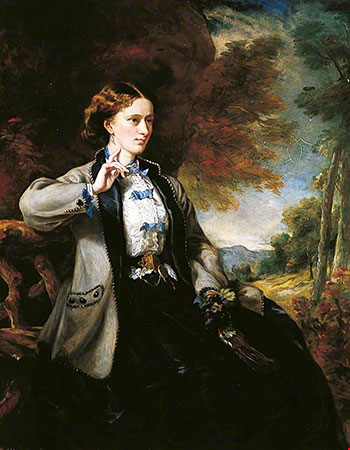 This gem of a book offers a glimpse into a world in which Downton Abbey meets late Victorian Anglo-Catholicism. James Lomax writes the first biography of Emily Meynell Ingram (1840-1904), a major Victorian artist, architectural patron, yachtswoman, and châtelaine (a woman who oversees a large country house) in rural Staffordshire.
Born Emily Charlotte Wood, the biography's subject was one of three daughters of Charles Wood, first Viscount Halifax; she was thus younger sister to the most prominent Anglo-Catholic layman of the nineteenth and twentieth centuries, Charles Lindley Wood (1839-1934), president of the English Church Union from 1868 to 1919, and again from 1927 to 1934. The book outlines a happy childhood in Hickleton and London, with fascinating extracts from her early diaries and sketchbooks. She characterized herself as "a joyous headstrong spirit" in youth, a young person who was included in her father's large political dinner parties with figures such as Gladstone and the Duke of Wellington. In young adulthood, Emily corresponded almost daily with her brother the future Lord Halifax, traveling on the continent and developing a serious skill as a painter before her 1863 wedding at St Paul's Church, Knightsbridge—already then a center of London ritualist activity.
Emily inherited substantial wealth in her own right as the daughter of the Chancellor of the Exchequer, but still more after the early death of her husband Hugo Francis Meynell Ingram (1822-1871) after just eight years of marriage during which the couple had no children. She spent the 33 years of her widowhood in a mourning as perpetual as but still dissimilar to Queen Victoria's. Emily never remarried, and devoted herself to rebuilding churches in memory of her late husband (the Church of the Holy Angels, Hoar Cross and All Saints Church, Laughton in Lincolnshire, both entrusted to the leading Gothic revival architects George Frederick Bodley (1827-1907) and Thomas Garner (1839-1906); supporting Anglo-Catholic clergy friends (most notably William John Knox Little) as her domestic chaplains; and, from 1886 to 1897, racing her 360-ton yacht Ariadne.
James Lomax—curator of for three decades of the Meynell Ingram country house at Temple Newsam—is a master of the material available for a biography of Emily Meynell Ingram. He dedicates chapters to her early life; her brief time as a wife and her visit with a distant kinsman, William Ingraham Kip, the first Bishop of California; her bereavement; her architectural patronage far afield from Hoar Cross and Laughton, and support of the Society of St Margaret (John Mason Neale's East Grinstead Sisters); her work as the manager of country estates; her renovation of her home in preparation for a royal visit in 1894; and most entertainingly to her life aboard the Ariadne. The book is all the more important in its very unusual view of a woman's experience of early, post-Tractarian Anglo-Catholicism; and particularly because it does not dwell on her status as the daughter of X, the widow of Y, or the sister of Z, but rather as a patron and ecclesiastical personality in her own right who enjoyed unparalleled but now almost forgotten authority, wealth, and privilege.
There are also important and uncommon insights into the difficult personal life of a woman who had inherited all of her late husband's estate while his surviving siblings remained within her domestic orbit, along with a sensitive narration of her declining eyesight in later years—a particular trial for a keen artist—and her four visits to Wiesbaden in 1898, 1899, 1900 and 1903 in search of medical treatment. She was an early adopter of the typewriter for domestic correspondence, and a hostess on a truly unusual scale, welcoming 6,000 Sunday School children of Leeds to her estate on the occasion of Queen Victoria's 1887 Golden Jubilee but herself appearing infrequently in the published guest notices at others' homes.
The book ends with a delightful appendix by Emily's nephew Francis, entitled "Life with Aunt Emily," devoted to a child's recollections of life at an Anglo-Catholic country house from c. 1885 to 1902. There are a handful of snags—the same picture appears on p. 149 and p. 180, and the word Tractarian is misspelled as Tracterian—but they could be corrected easily in a second edition of a work that deserves a wide and appreciative audience. Lomax has rescued the memory of one of the great lay figures of the Anglo-Catholic movement, and his readers are in his debt.
---