| | |
| --- | --- |
| This page last updated 14 October 2007 | |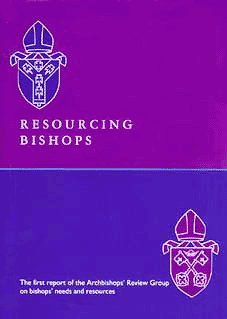 Resourcing Bishops for Information Technology
By Simon Sarmiento, UK/Europe Editor, AO
A Church of England review group this week published a lengthy report on the resources, financial and material, needed by Church of England bishops.  It is an excellent document which explains in detail a lot of things not previously made clear about how bishops work, what costs are actually incurred in relation to bishops, and the bizarre manner in which bishops' working costs are currently met.  The latter is a frightening revelation of the working practices of the Church Commissioners.
The review group, which was chaired by a retired professor of law and included several very senior business executives, makes over a hundred recommendations for sensible financial management. The group is clear that bishops are not spending lavishly, but are hamstrung by an outmoded approach to financial control.
The keynote recommendations are published in the Church Times.
This group will itself be making further reports on the special needs of the two archbishops, but one wonders what further horrors might be uncovered if all departments at the Commissioners were subject to similar professional scrutiny.
The report includes much other good material, including an appendix on theological issues by Bishop Stephen Sykes and another appendix (twice as long!) on legal aspects of being a bishop, both of which would be worth publishing as separate documents.
Another chapter looks to the future and lists various things that bishops themselves predict will be necessary in the next decade (see Church Times summary of this chapter).  However the group added one more item, apparently because it wasn't raised by bishops, namely the importance of Information Technology (IT).  While it's worrying that the group had to raise this issue itself, it's very good that they have done so, and the sensible recommendations they make in this area are worth the attention of the whole church, not just the bishops. The topic of IT strategy is not something to which English church reports have previously given much emphasis. The editors of Anglicans Online are very pleased to see this happening.
Here is the full text of those sections of the report which deal with IT aspects:
Page 86

Communications and information technology

8.14 The predictions which we have summarised are those of the bishops; we add a factor of our own. There must also be taken into account electronic communication. We do not predict exactly what developments in the field will occur during the decade with which we are concerned, but it must be anticipated that there will be many. It will not be unusual for a bishop to have his own website.

8.15 Such means of communication by the bishop can become a powerful instrument in his hands. Simultaneous electronic communication by a bishop with everyone in his diocese is but one example.

8.16 For our purposes, however, we are more concerned with handling electronic communication to the bishop. It will be increasingly easy for communications to be sent to the bishop, and for originators to wish to enter into e-mail dialogue with the bishop or, at least, his office. We anticipate that during the decade there will be a substantial increase in the communications traffic to the bishop's office: it will need to be handled.

Page  152/3

Information tec hnology

15.26.1 Dioceses have differed in their commitment to the use of information technology, although we have noted that there is rapidly becoming greater consistency between them.

15.26.2 We are also conscious of the pace of IT development and the increasing use of the Internet. Some bishops have told us that as recently as about 1990, they would have been regarded as remarkably bold had they predicted that by the year 2000 there would be a computer in every bishop's office.

15.26.3 This is not an issue which is peculiar to bishops. It affects diocesan offices, and the Church as a whole. We have no doubt that nationwide protocols for both hardware and software and for the use of the Internet need to be prescribed by the Archbishops' Council.

15.26.4 We do, however, think that there is scope for obtaining at a local level equipment to the specification of the national protocol, as well as training and technical support and we recommend that the Resources Group should actively explore this possibility.


Page 197 (following a discussion about whether bishops should have offices in their houses or in diocesan office buildings)

19.30.2   …We do not envisage a paperless office, but as more and more information will be stored electronically, the physical place of storage will become less important: what will matter will be access to that information, and, with the appropriate equipment, information which is stored electronically can be accessed from almost anywhere. We envisage that there would invariably be a computer terminal in the bishop's study, and that in future all bishops will be fully computer literate.


Page 145 (about Pro bono support)

… Secondment of a member of staff and provision of IT equipment or IT training for staff or IT technical support are all examples. Engagement of persons of ability who have retired early to help with administration and research, perhaps on payment of an honorarium, is another example.
Elsewhere, the report drily notes that the Commissioners funds have been used for introducing computers and IT equipment into bishops' offices "to a standard which is not over-elaborate."  It also records that IT is one of the many subjects on which various bishops have told them they would welcome training. (We know that there is some training available, but clearly it's not enough.)  The concept of all bishops being "fully computer literate" —whatever that might mean—is very exciting.

This web site is independent. It is not official in any way. Our editorial staff is private and unaffiliated. Please contact editor@anglicansonline.org about information on this page. ©1997-2019 Society of Archbishop Justus