Barbara Buckley Wolf
From the Portland Press-Herald, 10 May 2003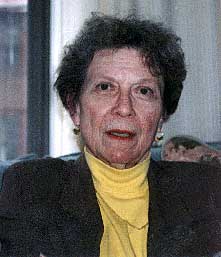 Barbara B. Wolf, a long-time resident of the state of Maine, died on May 12, 2003, after a long illness. She was born April 25, 1924, a daughter of Oliver Ellsworth Buckley and Clara Lane Buckley.
Her father was president of Bell Telephone Laboratories during the invention of the transistor, which won for laboratory sciences the Nobel Prize for Physics. After attending local schools and Wellesley College, Barbara Buckley was graduated from Grinnell College in 1946, with a degree in philosophy.
In October of that year, she married Frederick Barton Wolf, a priest of the Episcopal Church. Together they developed Journey in Faith, a ground-breaking program in adult Christian education, as well as a junior version as a resource for confirmation preparation. Both programs were highly popular for many years and helped to establish lay-led discussion groups as the basis for exploring faith and life. In 1959, after service in Illinois and Connecticut, the Wolfs moved to Bennington, Vt.
Mrs. Wolf earned her M.A. in English from the State University of New York at Albany. In 1968, Frederick Wolf was elected Episcopal Bishop of Maine and the family moved to Portland. Mrs. Wolf taught English at the University of Southern Maine from 1969 until her retirement twenty years later. In Portland, she wrote Living with Pain, published in 1977 by Seabury.
Mrs. Wolf was active throughout her life in church activities, singing in choirs and editing parish and diocesan newsletters. She was a much-valued member for many years of the Episcopal Church's national Board of Examining Chaplains. As well, she volunteered for the Lawyers Project in Portland.
She is survived by her younger sister, Juliet Buckley Korse-Alsup; by her daughters, the Rev. Mary Julietta Wolf-Foster (Tom Foster), Molly Wolf (Henry Clarke), and Dr. Jane M. Wolf; and by four grandchildren, Emily and Catherine Wolf, and Ross and John Greenough.
She leaves behind many who loved and will miss her, and who recognized her scintillating intelligence, boundless common sense, humour, good will, patience, endurance, and deep and abiding faith. By her request, there will be no visitation. Her funeral will take place at St. Mary the Virgin Church, 43 Foreside Road, Falmouth, Maine, at 4 p.m., Saturday, May 17. In lieu of flowers, donations should be made to: St. Mary the Virgin Church Memorial Fund 43 Foreside Road Falmouth, Maine, 04105 Arrangements are by Conroy-Tully Funeral Home, Portland.