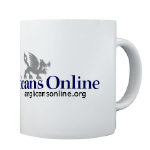 Welcome to the Anglicans Online Shop. Here you can buy various items with Anglicans Online imprinted on them, in differing degrees of subtlety. Click here to go to the Anglicans Online Shop. For a bit more detail, read on.
We've established this shop to raise money to support the operation of Anglicans Online and the other activities of the Society of Archbishop Justus. We don't run the shop ourselves. We use a commercial service that manufactures the products, processes the financial transactions on a secure server, ships the goods to you, and, at the end of the month, sends us a little share of the price you paid for the items you purchased.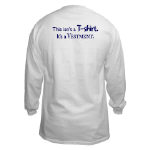 If you're buying goods and you're outside the States
If you are buying from outside the United States, there is a rather stern-sounding email by which Cafe Shops verify your credit card information. They seem to make the assumption that there might be possible credit card fraud and that people from outside the States need to verify basic information.
We are entirely certain that no Anglicans Online reader has ever committed credit card fraud (or any other kind) but we've not been able to change Cafe Shops procedures. We hope you'll be patient and forgive their cumbersome approval process. You will indeed receive the items you order—it may just take a bit longer. Click here to go to the Anglicans Online Shop.
Too many mugs? Tired of T-shirts?
If you already have too many coffee mugs, T-shirts, and wall clocks and would just like to make a donation, we can accommodate that, too. Just click here for our 'make a donation' page, which will enable you to contribute any amount you'd like on a secure server. Our credit card processing company can accept any amount greater than US$1, but only denominated in US dollars. Sigh.