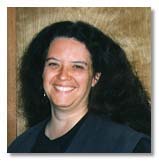 Jeanie Wylie was raised on Beacon Hill, in the Quad of General Seminary, New York, and along the lakeshore of Menomenee, Michigan by virtue of her father's calling as Episcopal priest, dean, and finally bishop.
She did her undergraduate thesis (1978) on T. S. Eliot, and her Columbia journalism Masters on the paradoxical relationship of two parishes: St. James Madison Avenue and St. Anne's South Bronx.
She moved to Detroit in 1980 to work for the Associated Press, which office environment proved the most racist and sexist of her working life. It afforded, however, opportunity for major stories on Detroit's Arab community and the street resistance to the Republican Convention. Fired from AP, she undertook an unfunded project: telling the story of Poletown, a multicultural working-class neighborhood razed to make room for a high-tech Cadillac plant. This was engaged journalism: actively resisting GM and the city prompted her first arrest. The film which she codirected, Poletown Lives! won first prized at the American Film Festival and her book, Poletown: Community Betrayed, was published by University of Illinois Press (1989).
Moving into the neighborhood of the Detroit Catholic Worker, she began to write for its paper, On the Edge, and joined its surrounding circle of anti-nuclear activists. She covered the Easter morning SAC-base action of her husband-to be, Bill Kellermann, for Michael Moore's Michigan Voice, but the two of them would not fall in love until they were handcuffed together and tried for conspiracy for an Advent witness at a cruise missile plant.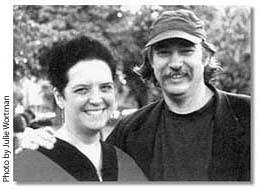 Their children Lydia (13) and Lucy (10) have been raised in a community of conscience where baptism signifies both the way of the cross and the freedom of the resurrection, as resistance to the power of death in all its forms. When Bill was in jail on a 50 day sentence, Jeanie made a picture book for Lydia, called "Where's Daddy?" explaining in three-year old logic the where and the why. She also wrote for the girls a little book on Roman martyr, St. Nicholas, freeing him from the consuming images of Santa Claus, and celebrating the communion of saints.
Visited in jail herself by Bishop Coleman McGehee in 1983, she joined his Church and Society staff and subsequently that of the diocesan paper, The Record. In 1991, preparing to leave in order to spend quiet maternal time with her baby Lydia, she hired on, to her own surprise, as editor/publisher of The Witness, independent social justice journal in the Episcopal tradition. Under her guidance it became less predictable, but more dialogical, aesthetic, theme-oriented, and earth-based in spirituality.
In 1996 she co-founded, virtually out of her dining room, Readers United which organized community-based direct actions (involving some 300 arrests) in support of the Detroit newspaper strikers - a labor dispute still unresolved. At the same time her heart was shifting toward earth and toward "tracking beauty." She aquired a small piece of land in Michigan's thumb, which has proved timely as a family place of healing and retreat.
Labor Day 1998, she collapsed with a brain tumor, a malignancy of the most aggressive sort. She has since suffered two major surgeries removing tangerine-sized masses from both frontal lobes. She's endured radiation, chemo, and experimental treatments still ongoing. Above all, she's been surrounded by prayer. An account of all this is told in updates on The Witness website. By the grace of its board and staff, Jeanie continues co-editing the magazine and recently put together a forthcoming issue on the meaning of discipleship.
2000
1999
1998